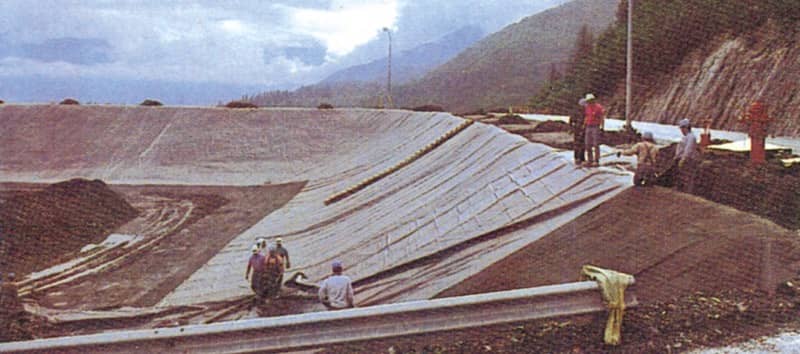 In 2012, President Obama reauthorized a two-year transportation bill by signing it into law. The Senate then passed a six-year highway bill in July of 2015 with the House of Representatives passing its own six-year bill on November 5, 2015. During this time, Congressman Chuck Fleishmann (R-Tenn.) introduced the Geosynthetic Amendment.
In the amendment, the Congressman says, "To the extent practicable, the Secretary shall encourage the use of durable, resilient, and sustainable materials and practices, including the use of geosynthetic materials and other innovative technologies, in carrying out the activities of the Federal Highway Administration."
Rep. Peter DeFazio (D-Ore.) proceeded to endorse the amendment. He explained that the Federal Highway Administration has been continually promoting to speed up and reduce the cost of bridge construction so improvements to vital infrastructure can take place. Due to the fact that geosynthetic fabrics are as quick to deploy as they are flexible, they are the logical choice to help the Federal Highway Administration reach their goal.
As geosynthetic materials have gained popularity in the civil and structural engineering circles, it has been noted that these fabrics can help ensure that meaningful improvements are made to roads and bridges by reducing erosion. This results in:
Lower overall maintenance costs to the structures in question and,
Environmental benefits that cannot be achieved by traditional building methods
Geosynthetic materials have been providing versatile and cost-effective solutions for roadway reinforcement since their introduction to the market in the 1960s. The application for these materials has also greatly expanded from being used in mainly transportation applications to being used in almost every segment of civil and structural engineering.
Another aspect of the amendment notes that there are 40 manufacturers of geosynthetic materials in North America, resulting in 13,200 American jobs. Since increasing jobs in America is a hot topic for both sides of the aisle, the support of geosynthetic applications serves multiple purposes. Congressman Fleishmann claimed that the amendment was not solely for geosynthetic support, but also a "American jobs amendment."
Ultimately, the amendment was met with approval from both sides of the House and successfully passed via a voice vote. The overall House highway bill was also passed by a 363 to 64 vote. The next steps to get the bill signed into law is first having the House and Senate iron out their respective bills and produce one final bill. Once complete, the bill would be sent to President Obama for approval.
---
To read the full amendment, click here.