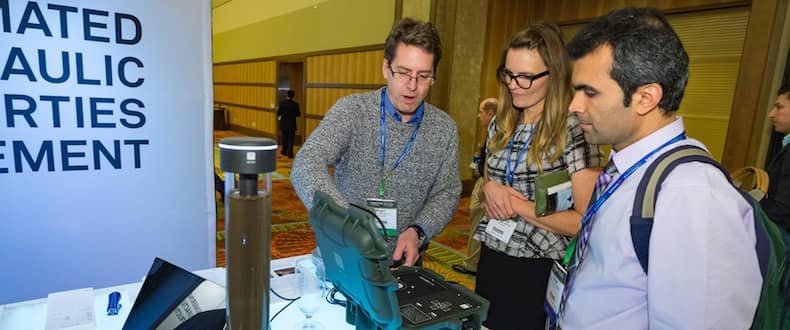 Geotechnical Frontiers 2017
When: Sunday, March 12, 2017 to Wednesday, March 15, 2017
Where: Hyatt Regency Hotel in Orlando, FL
Next to the yearly IFAI Conference, the Geotechnical Frontiers Conference is the largest conference I have been to for the geomembrane market. Unlike the IFAI Conference, Geotechnical Frontiers covers all geosynthetic materials and design applications, making it very appealing for almost any type of civil engineer.
Geotechnical Frontiers is the third installment of this biannual conference, combining both the biannual Geosynthetics and annual Geo-Congress Events. The conference was co-organized by IFAI Geosynthetic Materials Association and the Geo-Institute of ASCE. This conference is a must for any geo-professional to stay up-to-date with the latest and greatest geotechnical practices and technologies.
The conference featured exhibitors from every division and sector of geosynthetics along with a plethora of technical sessions covering geosynthetic materials, related projects, findings of different materials and case histories from the most respected members of the geosynthetic community. Engineers can earn up to 26 PDH credits! Below are a few tech sessions I attended:
Geosynthetics Research & Modeling – Geomembrane Manufacturing data
Geosynthetics in Foundations - Geofoam Inclusions for Reducing Passive Force on Bridge Abutments Based on Large-Scale Tests
Geomembranes – 25 year-old Geomembrane lined ponds and Exposed vs not Exposed
New Coal Combustion Residual Rules – 2D Ground Analysis and Final Cover Systems
Load Distribution on buried Structures – Seismic Response of Shallow Buried Box Tunnels with Geofoam Side Cushions
Behavior of Compact Clays – Practice Considerations
In between the many tech sessions, trade show exhibits were available. Companies covering the following areas of the industry were exhibiting:
Geomembrane, geotextile, geogrid and many other geosynthetic manufacturers (Including the Seaman Corporation Booth!)
QC/QA equipment manufacturers
QC/QA testing companies
Installer/fabricators
Welding equipment manufacturers including the new GPS and app tracker welder presented by DEMTECH)
From my experience I would recommend the following civil engineers attend:
Environmental
Civil
Geotechnical
Water Resources
After my first time attending the Geotechnical Frontiers Conference, I would highly recommend this event for any new or experienced geotechnical design and geosynthetic enthusiast. There are many beneficial tech sessions offered during the 3-day conference, so choose wisely. During those rare hours where you don't have a tech session to attend, check out the exhibitor hall to speak with industry leaders!
Again, this conference doesn't happen every year so look out for the next one in 2019! For those civil-related engineers out there who plan on attending the 2019 event, check out the conference booth outside the exhibitor hall that opens on the last day of the conference. It contains a surplus of the latest design manuals to hold you over until the next one.
Did you attend this event? What did you like most about the conference? Let us know in the comments below.
Click here to find out more on the past 2017 Geotechnical Frontiers Conference. See you there in 2019!

Image source: Geotechnical Frontiers Gallery