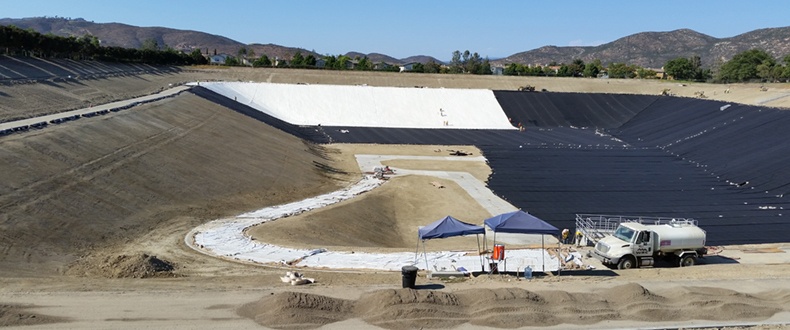 This past June, Seaman Corporation's Geomembrane group participated in PennTec, the 90th Annual Pennsylvania Water Environment Conference and Tradeshow in Hershey. This group is affiliated with the Water Environment Federation (WEF) and includes many members who are also members of the Pennsylvania Section of the American Water Works Association (PA-AWWA). On display were XR-5® Geomembranes used for wastewater and potable water applications.
The conference was well attended and there was significant interest in two primary areas:
Management of Sanitary Sewer Overflows (SSO's): SSO's are a major thrust of regulatory action throughout the US. Infiltration, and particularly inflow, into municipal collection systems result in overflows and historically have been randomly discharged into surface waters during wet weather events. Now, most all collection system owners are mandated to deal with this problem in an environmentally sound manner. Attendees were seeking information on existing XR-5-lined SSO impoundments—successes, design data, implementation facts.
Potable Water Floating Covers: In-ground potable water storage tanks are a cost-effective alternative to elevated tank storage and can deliver much higher volume than multiple standpipes. Utility engineers at PA DEP wanted to know more about the concept of a geomembrane as a floating cover to maintain the purity of the finished water contained in the in-ground tanks. Pennsylvania has numerous working potable water floating cover systems including a large facility for the City of Erie that covers a 100-year-old storage impoundment.
Conference attendees were comprised of all functions within the delivery and treatment of water and wastewater from designers to field personnel. The exhibition was heavily focused on problem-solving, both from an engineering as well as from an operations perspective.
While the major emphasis was on municipal operations (due to the extremely large size of that market), industrial water use/wastewater treatment was also addressed. Vendors of chemical-resistant geomembranes were sought by many in the industrial sector, and also in the very aggressive areas of anaerobic digestion for municipal biosolids.
Bill Shehane, P.E., and Felon Wilson, P.E., represented Seaman Corporation's Geomembrane group at the conference and were on hand to address technical and engineering questions from participants regarding the XR-5 and XR-5 potable water geomembranes.