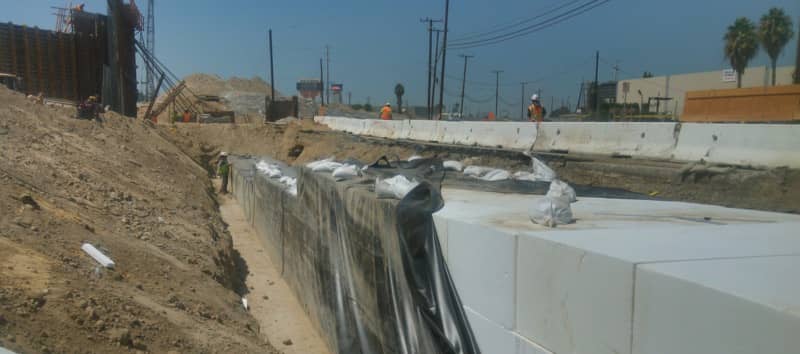 Every year, more and more roads and highways are constructed to meet growing demands. However, this new construction or expansion of infrastructure may end up being built over loose or soft soil that does not have the ability to support the associated loads. So how do you reduce the vertical stress of these projects on the soil below? One solution is by using expanded polystyrene (EPS) geofoam.
What Is It?
EPS geofoam is a lightweight foam plastic, which is manufactured into blocks, that is commonly used as a structural backfill. As EPS geofoam has a unit density that can be roughly as low as one pound per square foot, it is an extremely lightweight alternative to soil, nearly 100 times lighter than most soils.
The primary application of EPS geofoam is regarding highway, bridge, embankment, and parking lot construction, but there are a myriad of other uses as well. Due to the fact that this geofoam is a soil replacement, it can be covered to look like a wall or a natural slope, making it an aesthetically pleasing option as well. The customizability of this material is also attractive since it can be cut into almost any size and shape directly at the job site.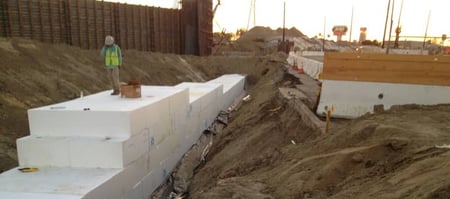 Benefits
Besides being a lightweight alternative to soil, there are a number of lesser known benefits of using this material. Some benefits include:
Accelerated construction
Ability to be constructed in adverse weather
Can be constructed and vertically faced in right-of-way scenarios
No need for heavy earthmoving equipment
Overall cost savings for project
Reduced labor time
Little to no later load exerted on retaining structures
Repairs of slope failures
No need for environmental permits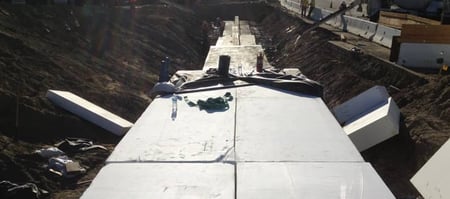 The above benefits have made EPS geofoam an attractive alternative in this industry. The specification of EPS geofoam has seen an increase within the last few years, with some state's Department of Transportation (DOT) administrators adding specification sheets for geofoam and geofoam coverage (otherwise known as geomembranes) to their agency documents. An example of this is CALTRANS in the state of California.
CALTRANS specifies that, in any application where a geofoam is being used as a structural backfill, a reinforced gasoline resistant geomembrane (GRG) must be used. The geomembrane must be able to protect the geofoam from spilled liquid hydrocarbons (like gasoline, diesel fuel, kerosene, etc.) as well as cover and conform to the corners of the EPS blocks at 45 degrees Fahrenheit, without applying heat. An example of a geomembrane that passes the CALTRANS specifications is Seaman Corporation's 9832 XR-5 G geomembrane.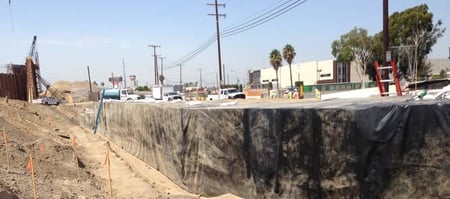 While not all states have adopted the geofoam and geomembrane specifications, they are definitely on the rise. The geofoam global market is expected to reach USD 570 million by 2020. Do you have any other benefits of EPS geofoam and geomembrane that you'd like to share? Tell us about it in the comments!