Seaman Corporation offers high-performance accessories engineered to work specifically with XR geomembranes. If you have questions or would like to have more information about the accessories below, call (800) 927-8578 and ask for geomembrane products tech service.
---
XR® Walkmat
XR Walkmat is a slip-resistant composite on reinforced geomembrane to enhance safety in high foot-traffic areas in all conditions. The vibrant yellow composite is applied to XR-5-reinforced geomembrane and strips can be used on defined paths to increase accessibility on job sites.
The superior puncture resistance provides protection from potential damage caused by dropped tools. XR Walkmat can be hot air or hot wedge welded to the XR geomembrane for a homogeneous bond for added durability. The high chemical resistance of the XR-5 reinforced geomembrane reduces the attack of harsh chemicals and prolongs the life expectancy in comparison to flexible synthetic resin based mats. In addition, the dimensional stability is inherent to the mat's base fabric, inhibiting growth and shrinkage of the overall system.
Physical Properties (typical):
Thickness - 95mil (2.4 mm)
Roll size – 40 ft. (12.2 m)
Dimensional stability – 1.5%
Puncture resistance – 240 lbs (1068 N)
Breaking strength – 400 lbs/in (1780 N)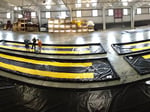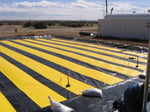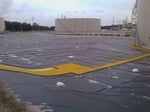 ---
XR® Embed
The use of XR embedment strip in concrete profiles makes geomembrane installation easy and provides significant cost savings over mechanically fastened systems. Developed with the same proprietary formula used in XR geomembranes, the extruded strips provide chemical resistance and compatibility in welding and durability associated with the XR product line. The protrusions anchor into concrete and provide a secure surface area for continuous attachment of the geomembrane to the concrete around the perimeter of the environmental site.
Dimensions:
Length: 10 ft (3.05 m)
Width: 3.75 inches weldable (95.2 mm)
Anchor finger length: 1 in. (25.4 mm)
Chemical Resistance
Tensile Strength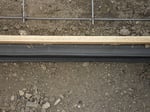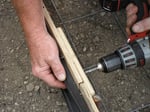 ---
XR® Welding Rod
The XR-Welding Rod uses the same proprietary formula used to coat XR geomembranes to provide strong seals and lasting protection. The 4.5 mm rod can be used with standard, commercially available extrusion welding equipment. It is available in 1,000-foot spool.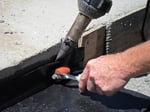 ---
If you're working on a geomembrane project, or you have a question about our Geomembrane Accessories, contact us today to set up an appointment or to answer any questions you may have.