A Durable Geomembrane You Can Trust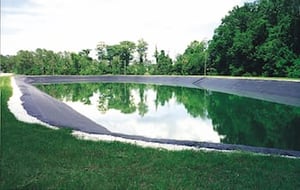 XR Geomembranes are the strongest, most durable geomembranes in use today. Seaman Corporation offers three grades of XR Geomembranes:
XR-5®—for broad chemical-resistant applications requiring high-strength membranes
XR-3®—for moderate chemical-resistant requirements
XR®PW—for potable water contact products
Other specialty products include arctic liners, polyurethanes for pillow tanks and tank bottom liners, oil booms, and accessories. All geomembrane products are classified as an Ethylene Interpolymer Alloy (EIA) and capable of performing in the toughest geomembrane applications in the world, including floating covers, tank farms, wastewater impoundments, landfill liners, and more.
With low thermal expansion and contraction properties, geomembranes are very stable and come in factory panels over 15,000 square feet (1,400 square meters) for less field seaming.
Interested in learning more about how XR Geomembranes stack up against the competition? Check out the following comparisons: