Differences Between XR Geomembranes and Polyethylene Liners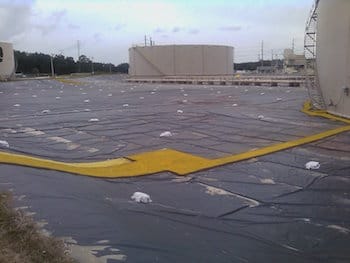 Working on a geomembrane project and not sure which liner is best suited for your application? Consider XR Geomembranes. With a broad range of chemical resistance and physical properties, XR Geomembranes help protect the environment through primary and secondary containment, have superior seam strength, and more.
Compared to competitive products, including chlorosulfonated polyethylene (CSPE), XR Geomembranes are built to outlast and outperform, setting the industry standard for strength, durability, and performance. See the chart below to learn how a 30 mil XR-5® stacks up against a 36 and 45 mil polyethylene liners.
Comparison of coated fabric vs. laminate
30 mil
XR-5®

36 mil
CSPE

45 mil
CSPE

Tensile Strength
ASTM D-751 Grab Method
550 lbs
200 lbs
200 lbs
Puncture Resistance
ASTM D-751 Ball Tip (Approx.)
650 lbs
200 lbs
200 lbs
Sunlight Resistance
Excellent
Excellent
Excellent
Warranty Available
Weathering & Chemical Compatibility
Weathering Only
Weathering Only
Blocking Resistance
Excellent
Fair
Fair
Water Absorption
(212°F, 7 days)
+9.9%
+85.8%
+85.8%
Hydrostatic Resistance
ASTM D-751
800 psi
250 psi
250 psi
Manufacturer of Base Resin
DuPont
DuPont
DuPont
Manufacturer of Reinforcing Fabric
DuPont
Allied
Allied
Resistant to Wicking
Yes
No
No
Sheet Edge Lock Required
To Prevent Wicking
No
Yes
Yes
Thermal Expansion
(inches/100')With 150°F Temperature Change
0.78"
2.94"
2.94"
Repairable with Thermal Welding
Yes
No
No