On the evening of February 3, 2023, a train derailed in East Palestine, Ohio. The tanker cars, carrying several types of chemicals, ruptured, and caught fire.

The aftermath unfolded in the news for days, weeks, and months. The event impacted the population of the small community most directly, but also created an environmental investigation for Ohio and the surrounding states of Pennsylvania and West Virginia.Legislative efforts directed at updating safety requirements of the domestic rail service linger in Congress. There are, however, clear regulations regarding containment of fuel and spill prevention at the countries rail yards, compliments of the Clean Water Act.

The National Pollutant Discharge Elimination System (NPDES) and the Spill Prevention, Control and Countermeasure (SPCC) regulation identify requirements for the containment of fuels and discharge of chemicals.

Geomembranes are used to support SPCC compliance as secondary containment of above ground storage tanks. With respect to NPDES a geomembrane would most commonly be found lining a stormwater runoff pond.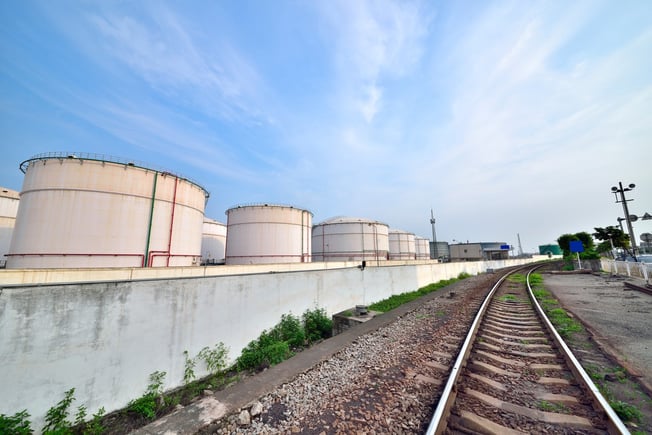 Choosing a geomembrane for effective service in the railroad industry means identifying specific performance characteristics. Whether lining new projects or relining existing installations, look for the following:

Chemical and fuel resistance
XR Geomembranes are compatible with hydrocarbons and have a low-permeation/vapor transmission rate. Degradation of some geomembranes occurs when diesel fuel or other chemicals cause the material to break down.

UV resistance
Liners may be exposed to UV rays, so long-term UV resistance is critical. XR Geomembranes offer excellent UV resistance and as a result can be left exposed, adding an additional advantage when considering liner inspections.

Longevity
Select a geomembrane with a proven track record. A high-quality liner will last many years beyond its warranties.

Strength
Choose a product with high tensile strength. XR Geomembranes are reinforced providing maximum puncture resistance.

Good thermal properties
Unsupported geomembranes expand and contract with temperature changes. This can lead to environmental stress cracking and exacerbate UV damage.

Flexible design options
Products with choices like XR-5's weldable walkmats allow for safe and easy maintenance and inspections and ease the loading and unloading of fuel. Heat welding the walkmat to the parent liner adds strength and the mats provide a textured and highly visible walking surface without requiring a gravel or soil cover over the liner.

A rail yard is a challenging environment, so pick a tough geomembrane that can stand up to abuse.

To learn more about how geomembranes serve the rail industry, contact XR Geomembranes.