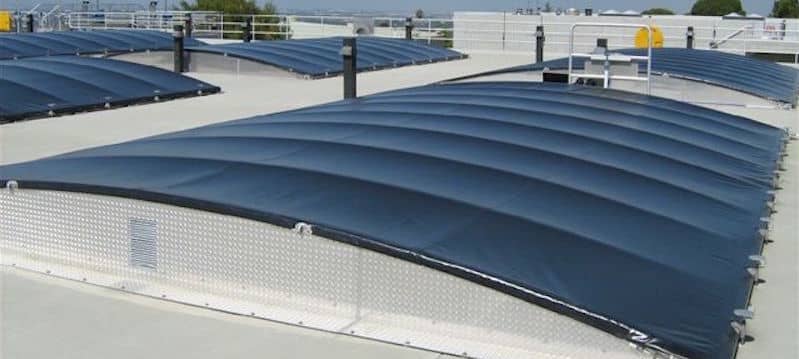 When looking for the best way to test your geomembranes, there are many official standards to consider. Material specifications for geomembrane sheets are set by manufacturers, who are also responsible for selecting standards best suited to test the geomembrane and indicate any potential way in which it may fail in the field.
Selecting the Correct Standard
For example, an HDPE geomembrane manufacturer may specify an Oxidated Induction Time test to indicate product failure after exposure.This test is performed using a high-temperature oxidation oven at a specified temperature under pressure; it's used to indicate the HDPE material's half-life in a controlled laboratory setting. An EIA geomembrane doesn't fail by this mechanism, thus eliminating any reason for an EIA manufacturer to test for it. An EIA manufacturer should reference a different standard for exposure—such as ASTM G155. This particular standard uses a weatherometer, which utilizes ultraviolet light, moisture and water spray exposure to replicate the outside environment.
When considering either an EIA or HDPE membrane for a project, how do you compare the life expectancy based on each geomembrane's specification? First, these materials will fail in different ways, and second, their testing standards are different. As a result, there is unfortunately no direct comparison. There are many similar standards referenced by manufacturers to evaluate geomembranes; the main difference being which standard they choose to use from which governing body. Let's look at this in a little more detail.
Testing Standards Based on Trade Organization
Several trade organizations provide testing standards that geomembrane manufacturers can choose from. In the United States, ASTM International, the Geosynthetic Institute (GSI) and the Fabricated Geomembrane Institute (FGI) are prominent standards organizations in this market. The following chart lists some of the key differentiators between the organizations.
| | | |
| --- | --- | --- |
| Trade Organization | Members | Specialties |
| ASTM International | Industry experts, manufacturers, engineers and scientists | Dedicated to improving product quality, enhancing health and safety, strengthening market access and trade and building consumer confidence |
| The Geosynthetic Institute (GSI) | A consortium of organizations, including state and federal, manufacturers involved in geotextiles, geogrids and geomembranes | Efforts are geared toward polypropylene geomembranes |
| The Fabricated Geomembrane Institute (FGI) | Academia, fabricators, manufacturers and equipment suppliers | Supports fabricated and folded geomembranes made in a factory prior to being sent to the job site |
Geomembrane manufacturers participate on these committees to provide expertise on standards pertaining to their products. In some cases, the standards are written around their specific geomembrane's polymeric properties. The exposure test discussed above for the HDPE is an example. This standard is specific to the failure of polyolefins while ASTM G155 is utilized by a broad range of products.
Performing a direct comparison between geomembranes can prove to be a difficult task. However, by educating yourself on the differences, you should be able to choose a geomembrane to best fit your application or project.
What other factors do you consider when selecting a geomembrane for your project? Tell us about it in the comments.