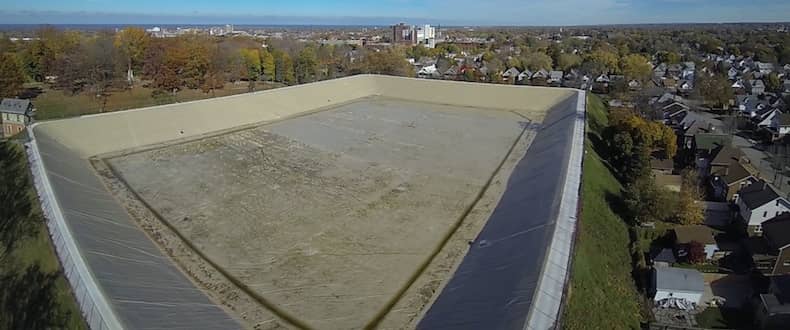 For a geomembrane to function properly and protect the environment from contamination, long-term stability is crucial. With a multitude of options and varieties of geomembranes available, it can be difficult to make an accurate, direct comparison. For example, when filtering by specification, geomembranes may be similar in physical attributes but have unique performance characteristics.
In addition, geomembranes may be drastically different based on standards, units, sample sizes, test consistency, and mode of failure. This can make performing direct comparisons between geomembrane options more difficult. However, there are two product properties that influence long-term performance on all types of reinforced geomembranes: tear and coating adhesion.
The adhesion of the coating will affect the tear and overall performance of the geomembrane. Tear and coating adhesion can be affected by:
Cohesiveness between the layers in geomembranes
Stability and strength of the reinforcement
Toughness of the film
A proven formulation with balanced properties between adhesion and tear results in a geomembrane composite that can withstand the loads and inhibit tear. The EIA (Ethylene Interpolymer Alloy) geomembrane with a tie coat to increase adhesion maintain tear and performs like a composite.
The laminate geomembrane allows the yarns to move and elongate, jeopardizing load carrying characteristics and tear in adjacent areas. Non-reinforced film shows low tear propagation once the material has been jeopardized. Thinning of the film occurs under load.
Consider Tear and Coating Adhesion When Specifying Geomembranes
When specifying geomembranes for long-term high performance applications, it is crucial to consider tear and coating adhesion.
Download our whitepaper to learn more about the importance of tear and coating adhesion on reinforced and non-reinforced geomembranes in regards to long-term performance. To see what our geomembrane solutions can do for you, contact us today.