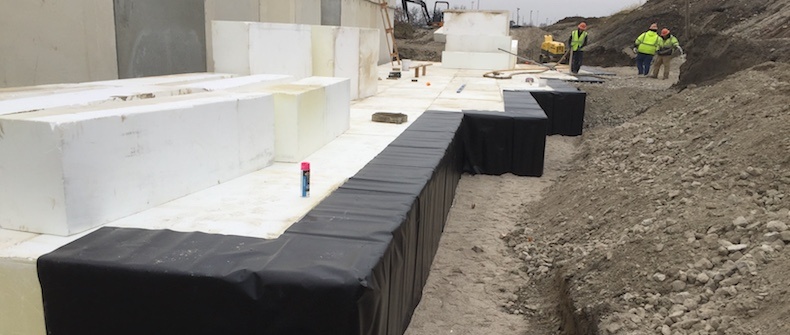 When choosing the correct geomembrane for geofoam coverage in road and bridge construction applications, there are six properties you always need to take into consideration:
1. Puncture Strength/Abrasion Resistance
2. Tensile Strength
3. Flexibility
4. Vapor Transmission
5. Toughness
6. Chemical Resistance
1. Puncture Strength/Abrasion Resistance
When choosing the correct geomembrane, it's best to consider a liner that can handle the rigors of the installation process. The stronger the geomembrane and the better its ability to withstand abrasion caused by sharp or rugged objects, the less likely the membrane will be punctured during installation or at any point in its lifespan. This is not meant to discourage anyone from using the geofoam/geomembrane combination, but to help with the construction process.

The most common puncture test designated by the Department of Transportation (DOT) for hydrocarbon-resistant geomembranes is the ASTM D751 Puncture Resistance test (Ball Tip). The DOT specification calls for 800 lbs. minimum puncture resistance according to this test.
2. Tensile Strength
There are a variety of tensile strength test methods, but the two most common are ASTM D751 grab tensile and ASTM D1623 basic tensile. The DOT requires a 600 lb. minimum for D751 and a 20 psi minimum for D1623.
Two other ASTM tests that are used interchangeably in DOT specs are ASTM D4632 and D751. Both of these specs are valid but ASTM D751 is most commonly used. ASTM D4632 focuses more on the grab breaking load and elongation of geotextiles, while D751 focuses on the testing of coated fabrics (aka a type of reinforced geomembrane).
Geotextiles are a type of permeable textile that helps increase soil stability and creates a cushion of protection for geomembranes. Geotextiles cannot be used alone to protect geofoam from hydrocarbons but can be combined with geomembranes on the same project. From time to time, geotextiles do have overlapping tests with other geosynthetic products.
3. Flexibility
The more flexible the liner is, the easier the geomembrane will be able to move and fold over the unique shapes and multiple 90-degree corners inherent with geofoam blocks. (Something the construction workers will thank the engineer for later.)
There are two different types of geomembranes found in geofoam installations, reinforced and unreinforced. Although, unreinforced geomembranes tend to not be specified that often, due to the lack of flexibility and lower strength.
Reinforced geomembranes gain strength from the reinforcing base fabric, plus they are less thick or rigid compared to their unreinforced counterpart. For unreinforced geomembranes, strength is proportional to thickness, and flexibility decreases with increasing thickness. Reinforced geomembranes on the other hand exhibit strength essentially independent of overall thickness, as the strength is derived from the reinforcing fabric. For unreinforced geomembranes to have similar puncture resistances as reinforced geomembranes, they usually need to be much thicker. As mentioned above, with increasing thickness, unreinforced geomembranes lose their flexibility and become even more rigid , resulting in increased difficulty in handling.
4. Vapor Transmission
When geofoam comes in contact with hydrocarbons, it is destroyed by the hydrocarbons. This could be bad in the case of an unlikely accidental fuel spill on a road. Having a liner barrier with a low vapor transmission rate is a very important quality.
The ASTM D814 inverted cup method is the standard geomembrane test used by all the DOTs, with a maximum rate of 0.4 oz/24hrs/ft2 required. This represents a very low vapor transmission, which is so low it is difficult to measure. When dealing with such impermeable materials, the emphasis shifts to constructability and long-term resistance to puncture.
5. Toughness
The toughness physical property isn't your standard liner regulation and doesn't even fall into an ASTM designation. Some designers use this measure strictly for geomembranes covering geofoam. It is calculated by multiplying two actual ASTM designations: ASTM D751 grab tensile strength test and elongation at break test. The measure implies a very weak material that has high elongation is as effective as a very strong product with low elongation.
The two most common toughness numbers you'll see are around 14,000 (22% elongation x ~650 lb. grab tensile).
The XR Geomembranes 8130 XR-5 and 9832 XR-5 G geomembranes fit this specification. Unreinforced geomembranes have a much larger percent elongation (around 300%) than reinforced geomembranes.
6. Chemical Resistance
If your liner cannot resist the most basic liquid hydrocarbons out in the field, the long-term project objectives will not be met. Many types of hydrocarbons may be encountered in a transportation installation, including gasoline, diesel, hydraulic fluids, etc., not to mention the many types of liquids that are transported by truck. A broad range of chemical resistance is very important.
Contact us to schedule a project consultation or to request a sample today!