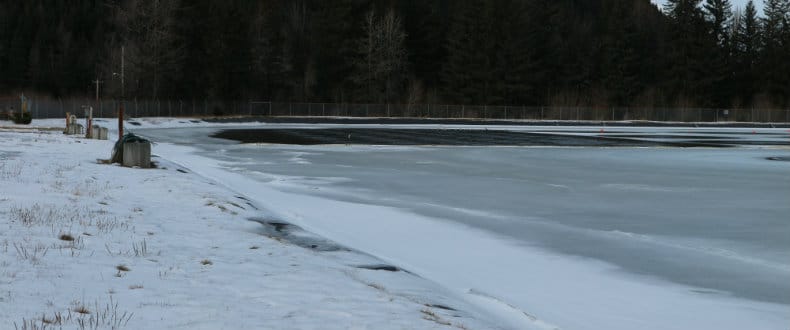 Some of the harshest environs in the world are in extreme cold applications. Wastewater operations must be designed with materials and features which ensure those successes. Let's take a look at one such installation, the 6-acre geomembrane lined wastewater impoundment at the Lowell Point wastewater treatment plant in Seward, Alaska. The reinforced ethylene copolymer has been in service at the facility for over a quarter of a century. Here are five features of the original site design, product selection, and installation, which were essential to its success and longevity.
The impoundment was designed with

steep slopes

, taking advantage of the gravel subgrade. The well-graded gravel provided stable slopes which did not generate sliding concerns against the geomembrane.
The impoundment was deep (40') and

terminated near sea level

(the facility is located adjacent to Resurrection Bay). Back pressure was not an issue at those depths and water intrusion during construction was not a major concern.
Because of the steep slopes (>2:1),

covering the geomembrane was not an option

, and not one wanted by the city. Eliminating cover eliminated maintenance. This required the use of a membrane with extremely low thermal expansion-contraction characteristics due to the very large temperature swings in southern Alaska.
On the other hand,

steep, long (60') slopes

= membrane load. By using a heavily reinforced material with high tensile strength and low elongation (high Modulus), long steep slopes were not a problem.
What about ice buildup? Obviously, that is a consideration. While the impoundment operation changes in the coldest portion of the year, variable amounts of

ice buildup occurs in the impoundment

. Those areas closest to the discharge of the diffused air headers typically remain ice-free with much more ice in other areas. Those areas are usually along the perimeter, which of course is where the exposed geomembrane covers the slopes. The heavily reinforced, tear, and puncture resistant ethylene copolymer geomembrane provided extra assurance against damage occurring by shifting ice in the impoundment.
Consider site, environmental, and operational conditions when designing wastewater treatment facilities in cold climates. When impoundment-based treatment is a cost-effective option, always consider how to provide a reliable low-maintenance facility for the long term.
For more information on the XR-5® Geomembrane, contact us today.