What geomembrane properties are most important to protect EPS Geofoam?

Part 2: Essential Geomembrane Properties to Protect Geofoam
In Part 1 of this series, we looked at the performance demands for a geomembrane in an EPS geofoam application. There were eight major categories and within those, there are two common themes in these requirements:
Survivability
Hydrocarbon resistance
It is interesting to note that in "Designing with Geosynthetics" (Koerner, 6th Edition, 2016), there are 24 pages devoted to Geofoam. Of that, one page discusses endurance properties and within it, one paragraph addresses chemical resistance and constructability of the protective geomembrane.
A recent study conducted by Seaman Corporation on the subject of geomembrane survivability vs. hydrocarbon vapor transmission has shown that an order of magnitude of lower hydrocarbon vapor transmission is insignificant if punctures occur during and post construction.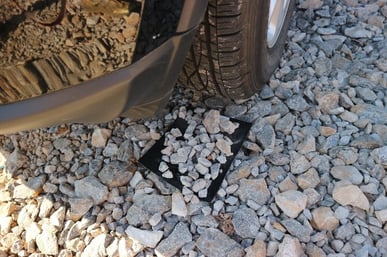 Field Geomembrane puncture testing
Source: Seaman Corporation
So, how are the requirements of survivability and hydrocarbon resistance specified? The most widely used U.S. Department of Transportation (DOT) specifications for geomembranes in Geofoam applications have requirements for:
Tensile strength
Thickness
Puncture resistance
Factory seam strength
Field seam vapor tightness
Gasoline permeability


In addition, an arbitrary factor designated "toughness" is used, which is defined as percent elongation times grab tensile. The definition of this measure (value at Yield or Break?), as well as its origin and significance, are undefined. Overall, these specifications address some of the needed properties of the geomembrane, but not all—and not in a meaningful way.
Starting with the eight performance requirements detailed in Part 1 of this series, and addressing the existing commonly used specifications, here are base specifications that specifically address the overall requirements of survivability and hydrocarbon resistance.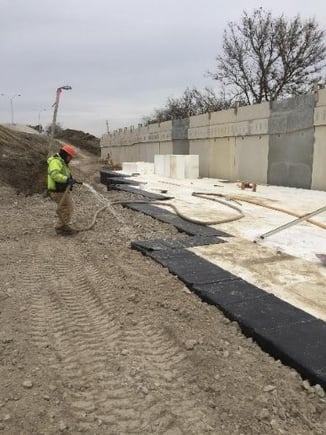 FXR-5 Geomembrane over Geofoam.
I75 Ohio, USA
Source: Seaman Corporation
Test
Test Method
Requirement
Justification
Grab Yield Tensile
ASTM D751
650 lbf (2,890 N) min.
Ability to withstand rigors of construction activity and maintain long-term integrity.
Seam Strength
ASTM D751
≥ Parent sheet material strength
Material seams must withstand the same or more loading or the geomembrane is compromised.
Puncture Resistance
ASTM 4833
275 lbf (1,200 N) min.
Sharp probe puncture resistance, simulating angular backfill or subgrade.
Puncture Resistance
ASTM D751 Ball Tip
950 lbf (4,200 N) min.
Round probe puncture resistance, simulating more- rounded stone.
Gasoline Vapor Transmission
ASTM D814
0.4 fl. oz./ft2/24 hrs (85 g/sq m/24 hrs) max.
U.S. Army standard specification of primary containment of fuel in collapsible tanks constructed of membranes.
Weight Gain - Gasoline Immersion
Full Immersion - No edge seals or membrane treatment, 180 days, pure gasoline
4% weight gain max.
Threshold for affecting physical properties and thus transmission of liquid.
Dead Load Seam Strength
ASTM D751 4 hour test
Pass at 266 lbf/in, 71o F (1,180 N/2.54 cm, 21o C)
Pass at 133 lbf/in, 160oF (590 N/2.54 cm, 70o C)
Sustained loading resistance for seams; critical indicator of tensile survivability.
Other geomembrane properties, such as polymer type, thickness and seam width, are unnecessary when specifying performance properties like those listed above. A performance specification does not restrict supply to a single product or manufacturer.
Field Seaming

Quality control of all field seams should include the strength properties shown above in addition to the testing required per the manufacturer/fabricator/installer's QC and CQA plans. All field seams should be tested for tightness using these methods:
Geomembrane Seam Evaluation by Vacuum Box Technique (ASTM D-5641-94, 2006).
Air Lance Seam Test Method (ASTM 4437-08, 2013, Section 4.2).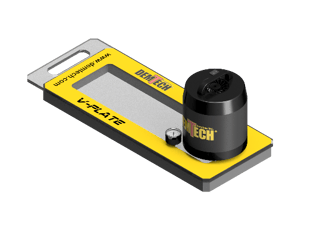 Vacuum Box Tester Source: Demtech Air Lance Tester Source: Fabricated Geomembrane Institute

Consult the geomembrane manufacturer for additional details.

Geofoam as an engineered fill material should be considered in many applications. Make sure it is protected with the proper geomembrane by writing the proper specifications. Don't be afraid to write the specs to get the best material for the application.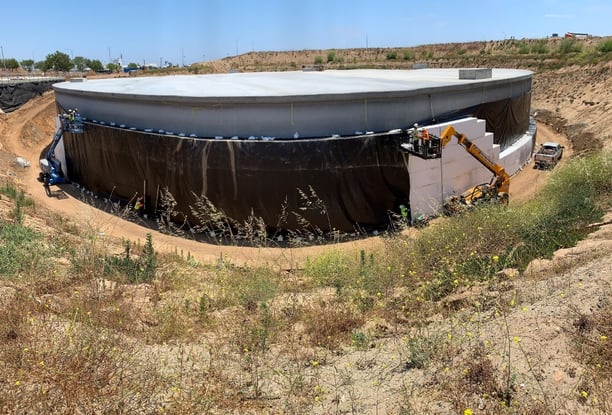 XR-5 over Geofoam in Stormwater application.
California, USA
Source: EC Applications

Learn more about geofoam applications in this project profile.