When the Haikey Creek Wastewater Treatment Plant was experiencing issues with its HDPE liner, it turned to XR-5 for its durability and low thermal expansion.
Project Profile:
Application: Wastewater Impoundments
Industry: Municipal Water & Wastewater
Product: 8138 XR-5
Project Name: Haikey Creek Wastewater Treatment Plant; Eq Basins 1 & 2
Project Location: Tulsa, Oklahoma
Date of Installation: 2013 & 2017
Total Square Footage: 215,000 & 250,000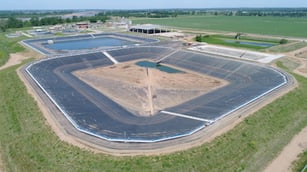 XR® Geomembranes' products have a proven track record and provide superior performance in a wide range of applications, including industrial wastewater impoundments. Low thermal expansion/contracting properties, along with toughness derived from the base fabric, allow the owner to leave the liner exposed, resulting in no slope maintenance and fewer land requirements.
Wastewater treatment plants often utilize geomembranes to help protect the environment and maximize resources. When the Haikey Creek Wastewater Treatment Plant (WTP) in Tulsa, Oklahoma, was experiencing issues with its HDPE liner, it turned to the XR-5 from XR Geomembranes for its long-term durability in the sun and low thermal expansion.
The Haikey Creek WTP serves the southeastern Tulsa tributary to Fry, Vensel, and Haikey Creek, and the Broken Arrow tributary to Haikey Creek. Wastewater enters the treatment plant through a 36-inch force main from the southeast lift station and a 30-inch force main and a 24-inch force main from the Haikey Creek lift station. The plant liquid treatment includes preliminary process screening, an oxidation ditch aeration process, clarification, and disinfection. The solids treatment process includes gravity thickening, sludge storage, sludge dewatering, stabilized sludge storage, and land application.
At one of its other facilities, the Haikey Creek WTP installed an HDPE liner and experienced issues with how ridged it was, preventing it from laying down well. Flexibility is an important factor for fabrication and ease of installation. The reinforced membrane of the XR-5 is flexible where HDPE is stiff. HDPE derives its strength from thickness versus the optimum use of reinforcement for a reinforced material like XR-5. XR-5's flexibility makes large prefabricated panels (15,000+ square feet) practical.
The prefabrication of XR-5 geomembranes allows for improved liner integrity and significantly reduces the number of field seams. HDPE is too rigid to prefab. Therefore, all seams are field seams, which translates into longer installation time, higher installation costs, and lower membrane integrity.
Additionally, HDPE suffers from extreme thermal expansion and contraction. The thermal expansion/contraction deficiency of HDPE can present problems even in those applications that will protect the liner with cover material. Wrinkles that exist during the placement of the cover will not necessarily flatten, but in many cases will either be left in a compressed vertical prayer position or a folded-over prayer position. XR-5 will lay flat due to its thermal stability, and if it happens to get creased, it does not suffer from the stress cracking phenomenon.
All geomembrane products are classified as an Ethylene Interpolymer Alloy (EIA) and capable of performing in the toughest geomembrane applications in the world, including floating covers, wastewater impoundments, landfill liners, and more. With low thermal expansion and contraction properties, geomembranes are very stable and come in factory panels over 15,000 square feet (1,400 square meters) for less field seaming.