Application Snapshot:

Installation: Moose Creek Fuel Farm
Location: Fairbanks, Alaska
Purpose: Secondary Containment for Fuel Storage
Owner: Crowley Solutions' Government Services Group
Solution: XR-5 Ultra Low Temperature (ULT) Geomembrane by Seaman Corporation
Engineer: Enterprise Engineering
Construction Manager: Latitude 63, LLC
General Contractor: Alaska Pacific Constructors and Engineers, Inc.
Fabricator: Northwest Linings Inc. and AccuGeo Liner Inc.
Installer: Northwest Linings Inc.
Date Installed: 2020-2021
A new fuel storage facility supporting Eielson Air Force Base and Fort Wainwright in Fairbanks, Alaska, is protected by the XR-5 geomembrane against environmental damage from spills.
Installed in 2020-2022, the fuel storage facility is privately owned and operated under a long-term contract between the Defense Logistics Agency (DLA) and Crowley Solutions' Government Services Group (Crowley). Latitude 63 and Alaska Pacific constructed the terminal on behalf of Crowley, who owns and operates the tankage site, which is located near Eielson AFB outside of Fairbanks. It includes three above-ground fuel storage tanks with a total capacity of 500,000 barrels (21 million gallons, 80 million liters), pipeline tie-ins, truck loading, rail unloading and on-site product additization. Arctic-grade jet fuel and diesel fuel are the primary liquids stored.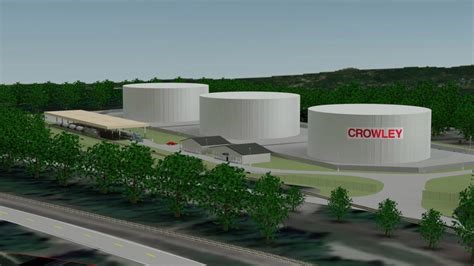 Fuel Storage facility depiction.
Source: Crowley.com

Subgrade Preparation

Each of the three tanks are 150 feet (45.7 m) in diameter and 60 feet (18 m) tall and constructed of welded steel. The entire area is enclosed inside a 6-foot (1.8 m) high berm constructed of local gravel that is also used under the tanks. In those areas comprising the base of the tanks, compaction was achieved by dynamic compaction, repeatedly dropping 15-ton (13.6 mt) weights to improve bearing capacity, reduce settlement and diminish liquefaction potential.

Geomembrane Selection

A recent set of blogs addressed laboratory test methods commonly used to measure geomembrane cold temperature resistance.
Those tests measure cold crack or cold-impact resistance, attempting to provide some index information regarding cold handling ability. Along with addressing testing, the scenarios that are commonly encountered with handling geomembranes in arctic conditions and can cause problems include:
Transport
Unfolding
Fi

eld seaming

Vehicle and personnel traffic
In-place damage
Rapid crack propagation (crystalline and semi-crystalline geomembranes)

In the case of the Moose Creek installation, project scheduling called for most of the geomembrane to be deployed and completed in colder conditions. Plus, no granular cover was desirable, and foot traffic was expected during facility operation. For these reasons, relative to the above failure modes, Enterprise Engineering specified the 8130 XR-5 ULT as the secondary containment geomembrane containment barrier. The product is designed to be used in ultra-low temperature (ULT) installations and service because of its cold weather flexibility and workability coupled with other properties needed in a secondary containment application:
High puncture strength
Long-term resistance to jet fuel
Low permeability to jet fuel
Negligible thermal expansion-contraction
Seam strength equal to sheet material strength


Ringwall Construction

The first portion of the liner deployment was for secondary containment/leak detection under the floors of the storage tanks contained within the concrete ring walls supporting the tank walls. Historically, tank ring walls are cast in place in a tank construction of this type. However, a precast system developed by the Project Construction Manager, Latitude 63, LLC of Anchorage, was used to save time and expense. Precast sections are joined to form a continuous circle with interlocking connections that are not subject to leakage and provide the strength necessary to support the tank walls. This allowed construction to proceed more rapidly during the short Alaskan construction season.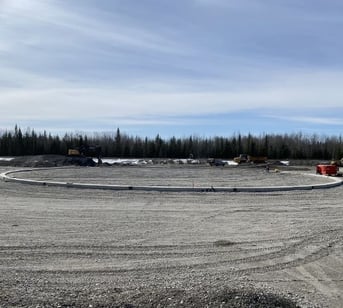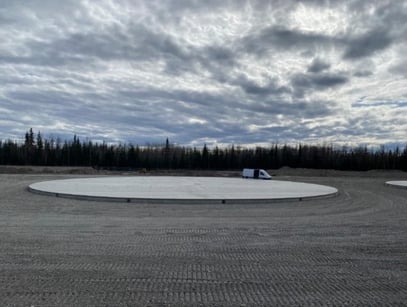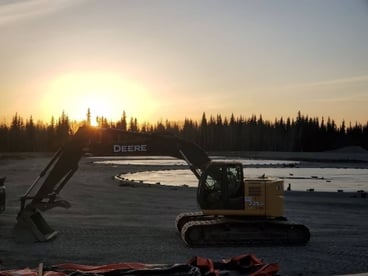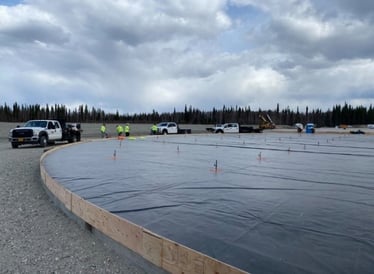 Tank Precast ring wall construction and geomembrane inside

Tank Construction
Upon completion of the ring wall and tank base secondary containment, the bulk storage tank construction began. Single steel rings were constructed from plates, then construction proceeded vertically with the next ring until the design height of the tank was reached and completed. Each tank was completed prior to proceeding to the next one to maintain quality control and safe working conditions.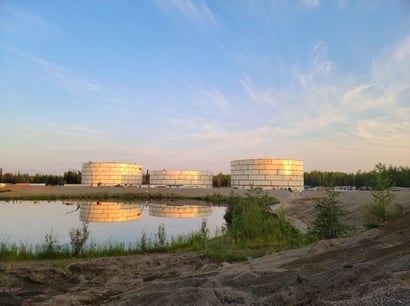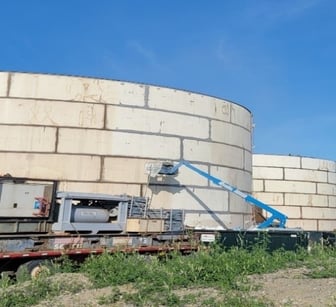 Tank construction
Geomembrane Installation in Containment Area

Because the XR-5 geomembrane is flexible, it was made into large sheets in a second manufacturing step to reduce field handling and seams. This saves money and time by minimizing field seaming and the resulting need for extensive construction quality assurance (CQA). Minimizing field seams also increases reliability. Anchoring of the fuel-resistance geomembrane was completed with mechanical battens to the interior and exterior of the precast ring walls. A lightweight geotextile underlayment provided additional ease of installation for the geomembrane. The high strength of the XR-5 geomembrane provided the puncture strength needed with the gravel subgrade.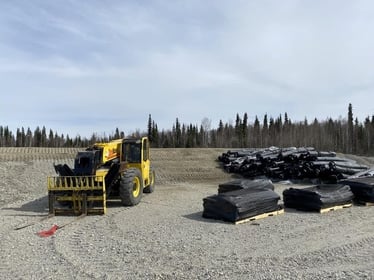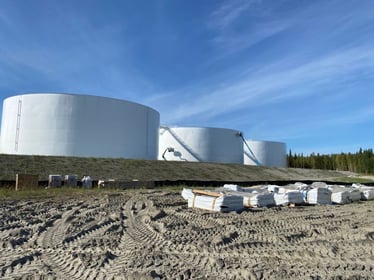 Fabricated panels staged for deployment
The diked area was sized for 8.8 million gallons (33.4 million liters) and was covered with 265,000 ft2 (25,000 m2) of the XR-5 ULT geomembrane. Daily and annual temperature swings in the interior of Alaska are some of the greatest in the world, requiring a geomembrane with extremely low thermal expansion-contraction characteristics (CTE). The ethylene copolymer compound composing the XR-5 has a very low CTE which allows it to be left exposed in such a harsh environment. That eliminates the need for protective overburden, reducing cost, eliminating damaging placement of aggregate, and allowing the use of steeper slopes, which do not have overburden stability concerns.
The XR-5 ULT geomembrane was anchored at the top of the 6-foot (1.8 m) high perimeter dike in a standard earthen trench. Depending on site conditions, this is normally the preferred perimeter termination method from a cost, schedule and long-term flexibility standpoint. Alternatively, when anchoring to perimeter CIP concrete, embedment strips made of the XR-5 compound are often used.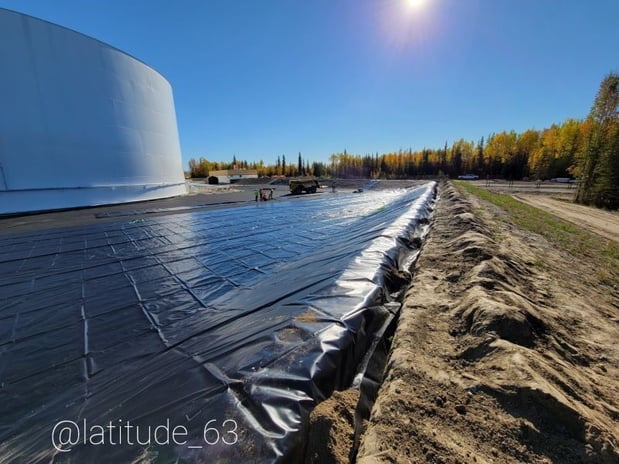 Perimeter geomembrane anchor trench
While minimal vehicular traffic is expected inside the lined containment area, and on the geomembrane, foot traffic is expected. This was one of the reasons the XR-5 ULT was chosen as its long-term cold flexibility will accommodate flexing at very low temperatures, which is needed for arctic operations.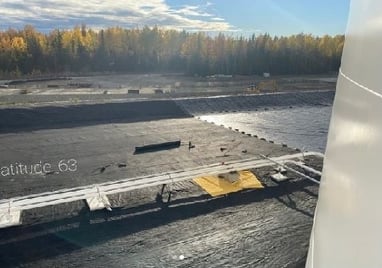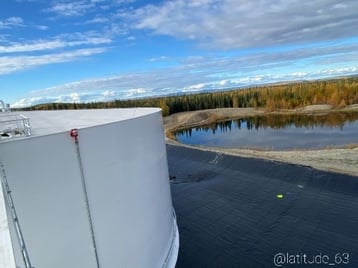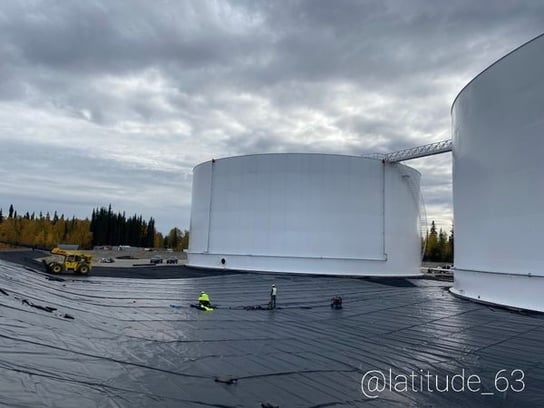 XR-5 ULT Geomembrane Installation


Stormwater/Oil Spill Management

Central Alaska is quite arid, having a yearly average precipitation of 10.8 inches (27.4 cm) of which 6.5 inches (16.5 cm) is snowfall equivalent water precipitation. With such a low amount of precipitation, stormwater management concerns within the diked containment area are minimized. This allows the use of manually activated self-priming pumps with intake below a water surface. All drainage is to a single point within the open three-tank diked area.

When fuel storage, operational assurance, low maintenance, and environmental protection are all critical, consulting engineers and the U.S. Military select the XR-5 series of Geomembranes.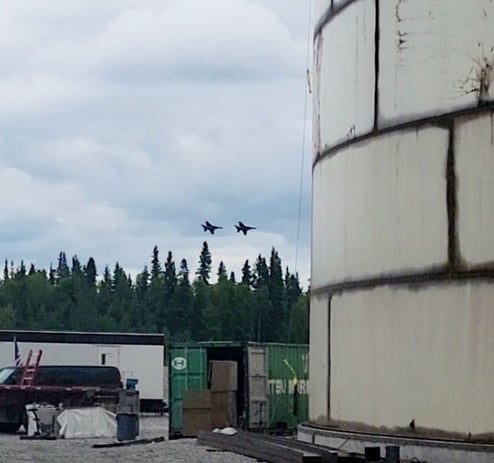 All photos sourced from Latitude 63, LLC, and Alaska Pacific Constructors and Engineers, Inc. unless indicated otherwise.

Learn more about the XR-5 ULT geomembrane.

For more information on Latitude 63, LLC and their precast ring wall system, visit their website at: www.latitude63.com.